Scarlet carnations, gifts and sincere words of gratitude. That's what, the present generation rejoices the veterans of the Great Patriotic War every year. This is the smallest thing that the present generation can do for brave heroes who have provided us with a peaceful sky above their heads. And yet, it certainly brings them joy. This was once again confirmed by the employees of KGU "Public contracts" of the apparatus of mayor of Zhambyl region, the council of elders, mothers and the youth league "White sails". On the eve of the 72-nd anniversary of the Great Victory, they visited more than ten participants of the Great Patriotic War and workers of the rear living in the city of Taraz.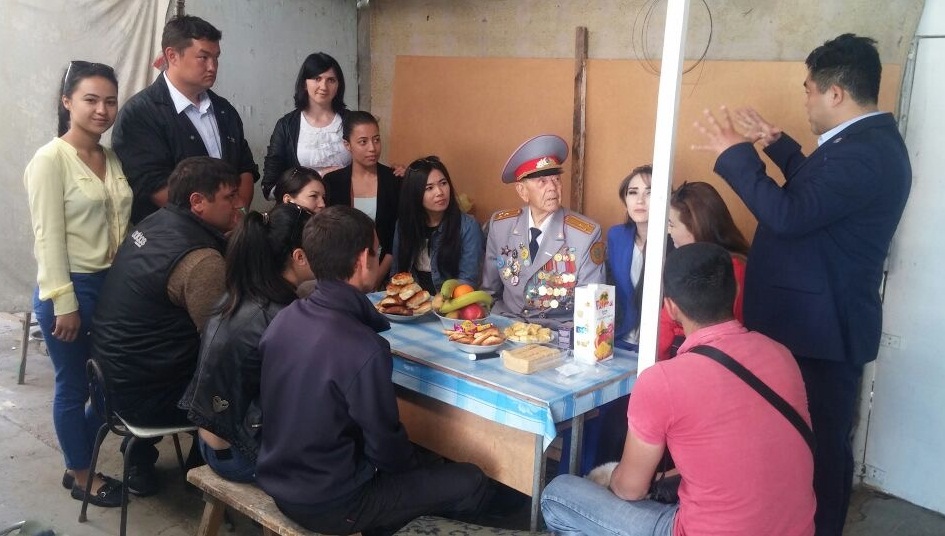 Chairman of the Board of Mothers Mukhabbat Mirazhapova in her congratulations said: "We are immensely grateful to you. Your feat will always live in the hearts of grateful descendants. A deep bow to all veterans for a peaceful life and the opportunity to build a strong independent Kazakhstan for future generations. "
Front-line intelligence officer Nigmat Akhmetov recently celebrated his 95th birthday. He went to war when he was a nineteen-year-old boy and fought on the Kalinin front. He met the victory in the Baltics, and returned in his native Zhambyl only in 1946. The veteran was touched by a sudden visit and added: "My wish is an eternal peace, without weapons, without atomic bombs. To live peacefully, happily, let people do not see wars ever. "
And the guys from the youth league "White sails" talked to the veterans for a long time, listened to their stories, sang "Katyusha" in unison. Chairman of the League Zainutdin Makhuseev in his congratulations said: "Happy holiday to you! I want to wish our grandfathers peace! Let there be always a clear sky and a bright sun above your head. I wish you health, joy and long life. "
Employees of KSU "Public contracts" of Mayor of Zhambyl region, council of elders, mothers and youth league "White sails" plan to visit veterans in the future.