05.10.2018

On 5 October Embassy of the Republic of Korea in Kazakhstan celebrated National Foundation Day at the Hilton hotel of Astana.
The holiday was established in honour of the foundation of the first state of the Korean nation in 2333 BC by the legendary king Dangun Wanggeom. According to legend, Dangun was the son of the Lord and having descended to earth to live with people, he founded the state Gojoseon.
The event was attended by Ambassador Extraordinary and Plenipotentiary of the Republic of Korea in Kazakhstan Kim Dae-sik, First Vice-Minister for Investment and Development of Kazakhstan Roman Sklyar, Director of Korean Cultural Center Lee Heran, heads of ethno-cultural associations.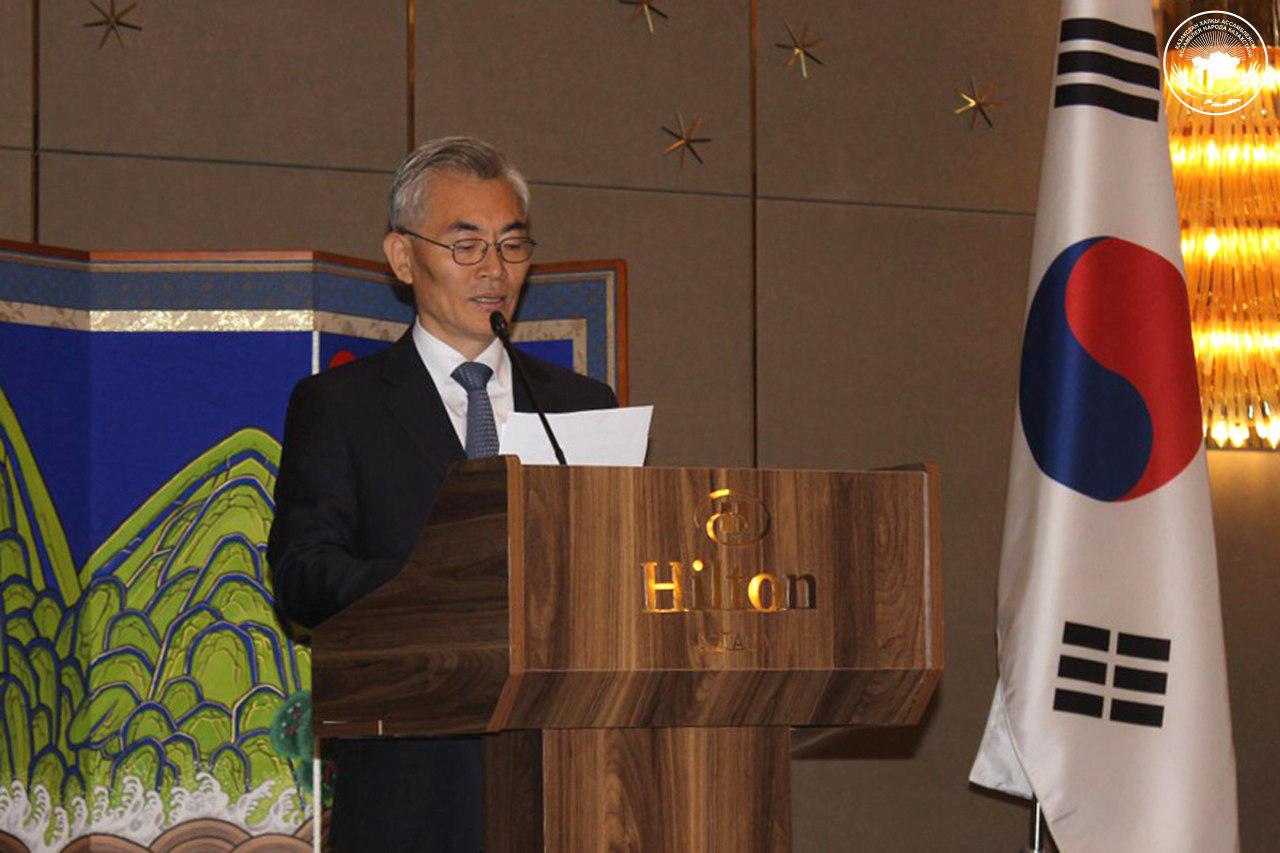 "For almost two generations, we have achieved two goals that any modern society aspires to achieve. I must say that the strong support and cooperation of many friendly countries have contributed greatly to our success. Koreans are now actively participating in UN peacekeeping missions around the world as one way to pay tribute to the international community.
Korea has established KOICA International Cooperation Agency, to share its experience with people from different developing countries who have similar views and aspirations. We will make every effort to promote peace and prosperity on Earth.
We work together with our friends from other countries to make this world a better place for our children. On the other hand, thanks to our experience in national restructuring, we have regained our pride and confidence.
If the problem of the North Korean nuclear programme is solved and inter-Korean cooperation is deepened, then the North Korean railway may be connected with the railways of South Korea.
Then we can go together from Astana to Seoul by train", — Mr. Kim Dae-sik said.
The Ambassador of the Republic of Korea also noted that the relations between Kazakhstan and Korea have achieved very good development in many areas, providing great satisfaction to both countries.
In 2009 Korea and Kazakhstan became strategic partners. Korea opened a language centre in Almaty in 1991, a cultural centre in Astana in 2010, and Consulate General in Almaty in 2015. Another 3 Korean government agencies, including KOTRA are located in Kazakhstan.
The visa-free agreement between the two countries has been in force since 2014. Kazakhstan is the most important partner for Korea in Central Asia in the field of economic cooperation.
There are about 200 Korean companies operating in Kazakhstan. These enterprises employ more than 8,000 Kazakhstan citizens, that contributes to the economic development of Kazakhstan.
Areas of economic cooperation between two countries are mainly limited to trade, natural resources, such traditional industries as construction, energy and oil.
Mr. Kim Dae-sik noted that being an Ambassador for a year and a half in Kazakhstan, he sees great potential for bilateral cooperation in many other areas, such as ICT, health and medical services, renewable energy, digitalization and so-called "smart city", "smart" plants, education, human capital development, cultural exchange, cooperation in the field of radio broadcasting.
The areas that the government of Kazakhstan seeks to develop and prepare for its future are those for which Koreans have the technology and experience.
"If we unite in the study of these potentials, we will certainly enjoy the great fruits of mutually beneficial cooperation. There are many statistics confirming our strong relationship. Every year, more than 150,000 Kazakh citizens attend cultural events organized by the Korean cultural centre. Every year, more than 3.5 thousand Kazakhstan citizens take Korean language courses offered by the Korean language centre, Korean cultural centre and 14 Kazakh universities. Even Nazarbayev Intellectual School in Astana recently introduced Korean as a second language course for its students this year.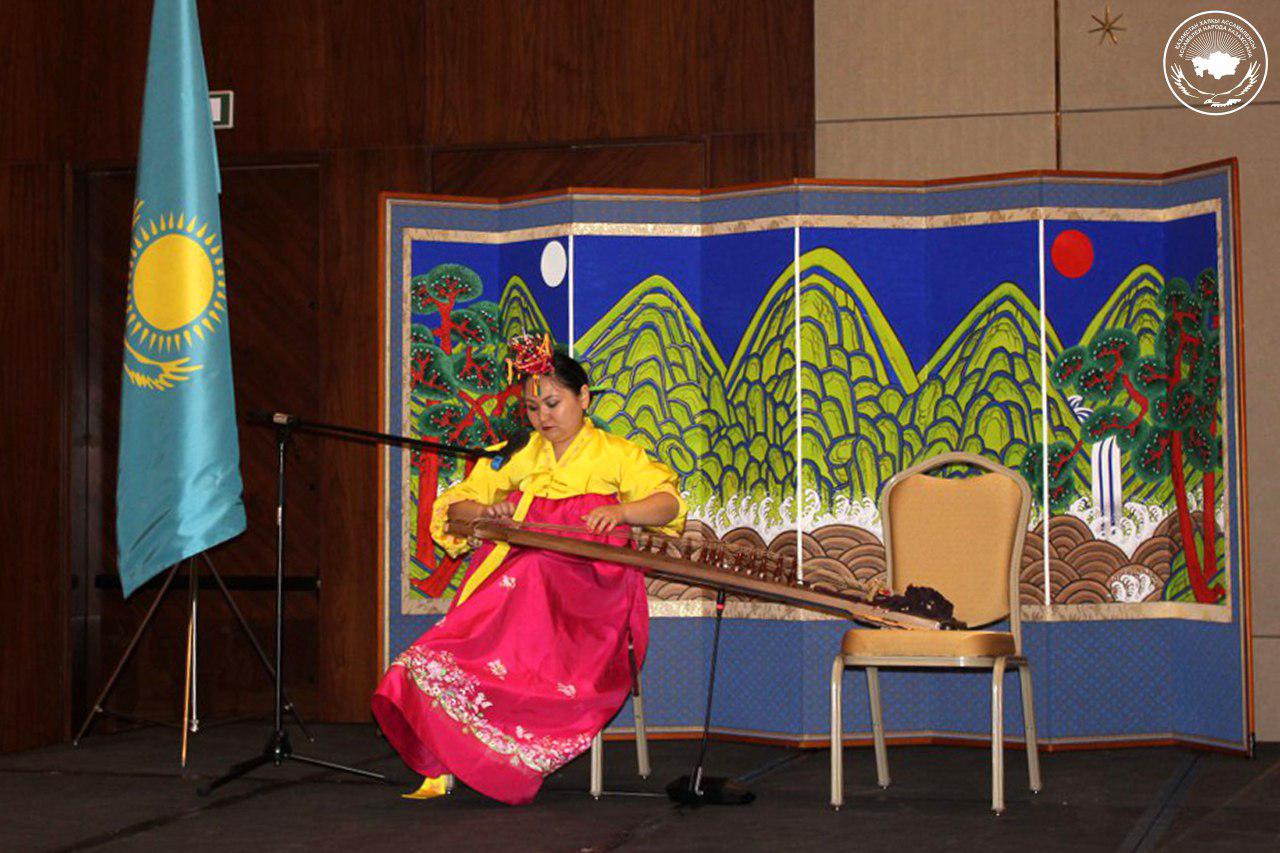 Moreover, Korea has about 1000 students from Kazakhstan. They will be the driving force in managing the future of our friendship and cooperation.
The importance of Kazakhstan as a partner for Korea is not limited to the economic, cultural and educational spheres, but also manifests itself in the areas of politics and security.
In particular, Kazakhstan's experience in nuclear disarmament is significant for Korea. As a Korean who has faced North Korea's nuclear ambitions, I highly appreciate the message that the government of Kazakhstan is continuously delivering to North Korea. The message is clear and strong. President Nazarbayev always states unequivocally: "Look at us. We destroyed our nuclear arsenals on the basis of our own decision". I would like to take this opportunity to thank the Government of Kazakhstan, which, as a non-permanent member of the UN Security Council for 2017 and 2018 strongly supports the policy of our Government both at the bilateral level and in the international arena. As for bilateral cooperation, I am sincerely proud to mention Kazakh citizens of Korean nationality. They have bravely overcome the difficulties that fate presented to them, they settled on this land and became exemplary citizens of great Kazakhstan and now they serve as a valuable resource for the promotion of our bilateral relations", — said the Ambassador of the Republic of Korea in Kazakhstan.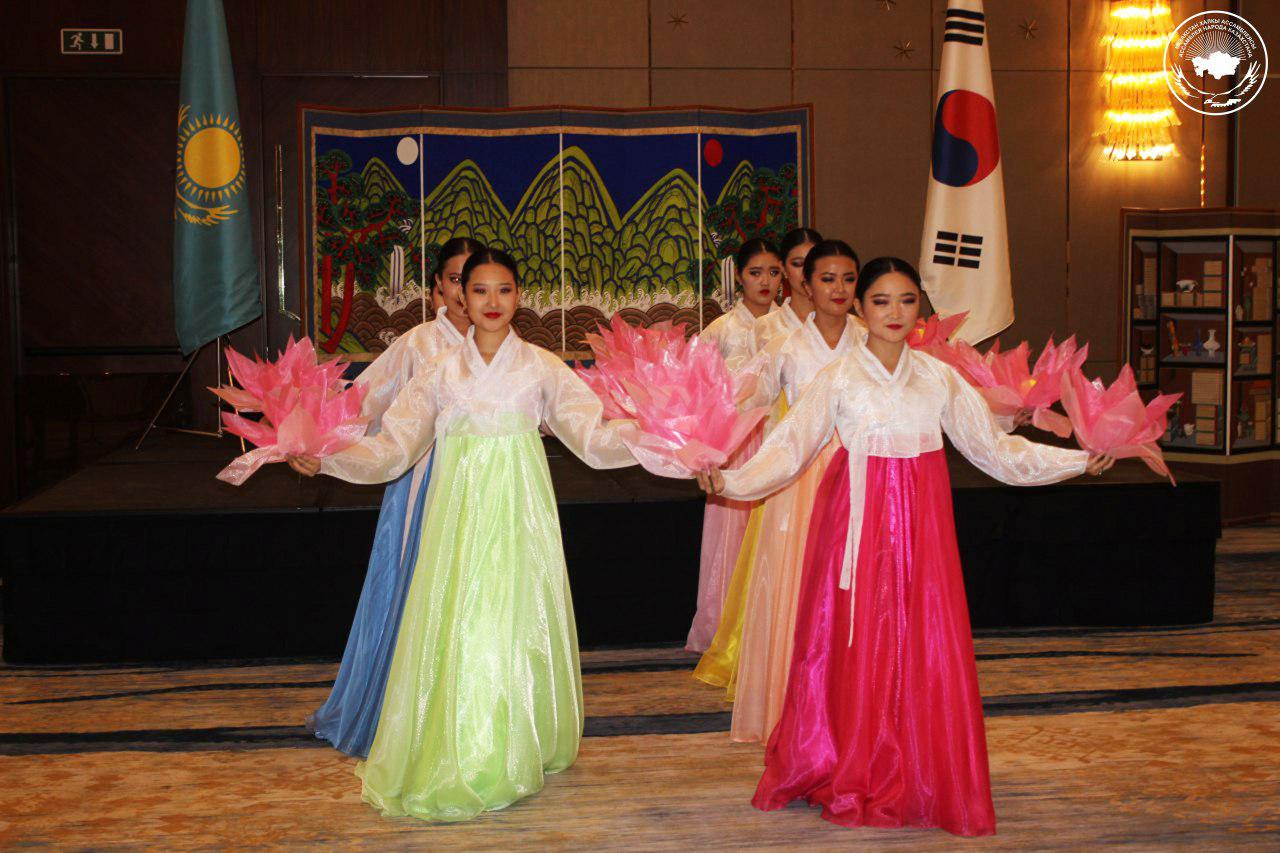 "During the two decades of official relations between the Republic of Kazakhstan and the Republic of Korea, our cooperation has invariably differed with a growing character. Relations between our countries are friendly and trust-based. A high level of interaction and trust is maintained due to our regular political dialogues at all level. The visit of the President of the Republic of Kazakhstan Nursultan Nazarbayev to Seoul in November 2016, gave a powerful impulse to the development of bilateral trade and economic cooperation.
Currently, we are seeing high figures in the fields of trade and investment. We have extensive experience in cooperation with Korean companies, most of which have been working in Kazakhstan for a long time and know our country well. Today, about 500 enterprises with participation of Korean capital operate in Kazakhstan. We have many positive examples of cooperation in various fields such as Mining and Metallurgy, manufacturing, Mechanical Engineering, Household and Electronic product Manufacturing, Construction, Medicine and Cosmetology and the Food industry.
We highly appreciate the fact that the Republic of Korea supports many international initiatives of Kazakhstan, promotes and invests in joint economic projects, transfers technological experience, interacts with our country in the fields of culture and education. Thus, all the necessary conditions have been created for the gradual expansion of trade and economic cooperation between two countries", — said Vice-Minister of Investment and Development Roman Sklyar.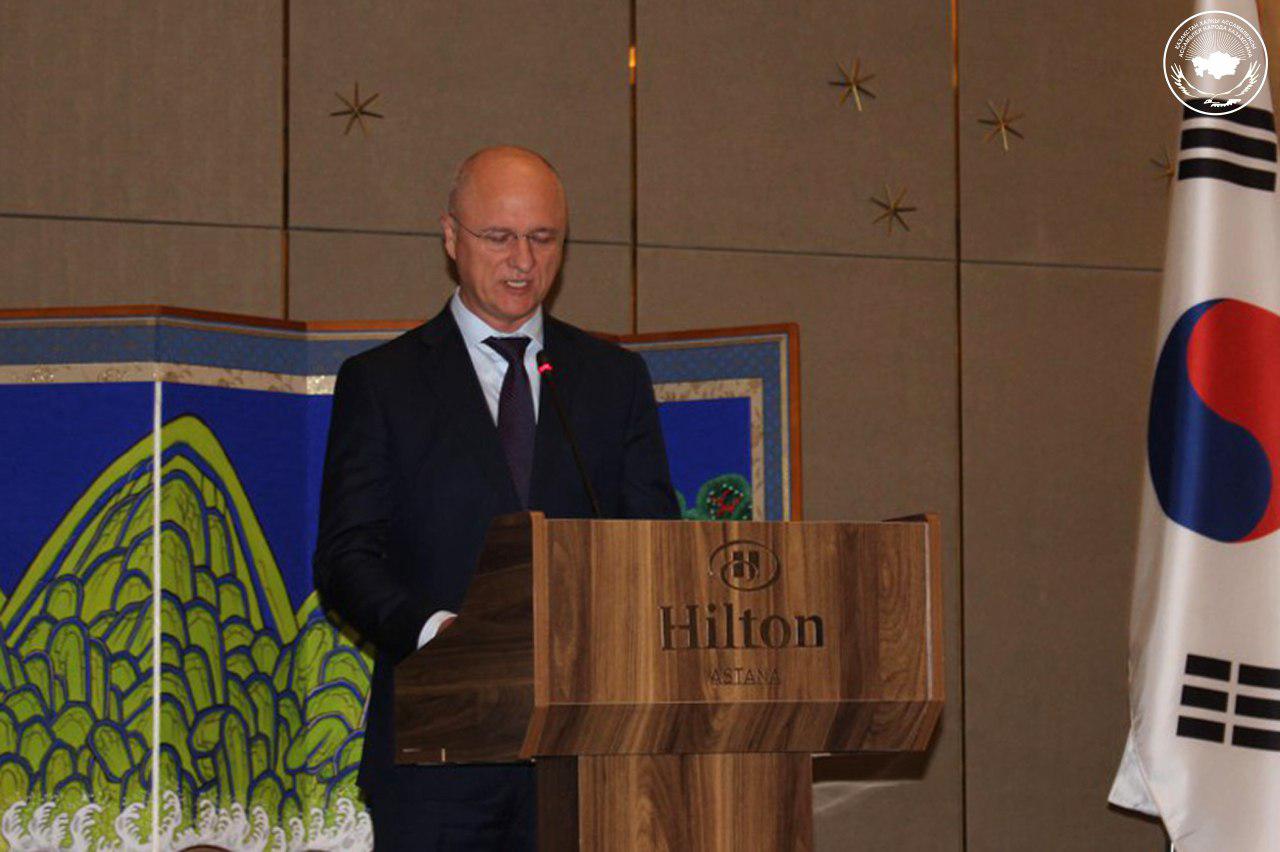 As one of the ways to mark the connecting role of the Korean diaspora as a bridge between two countries, the Embassy of the Republic of Korea invited "Mison" dance group of ethnic cultural association of Koreans in Astana to perform Korean traditional dances and music instead of inviting professional singers from Korea.
Use of materials for publication, commercial use, or distribution requires written or oral permission from the Board of Editors or the author. Hyperlink to Assembly of People of Kazakstan portal is necessary. All rights reserved by the Law RK "On author's rights and related rights".  To request authorization email toank_portal@assembly.kz.
Dana TUGAMBEKOVA
Дата события Ассамблеи:
Saturday, 6 October, 2018