21.06.2018

June 21 in the House of Friendship in Almaty city was held the opening of the youth Future forum of the Assembly of the People of Kazakhstan "New wave 100+".
The aim of the event — to motivate the youth to active social life by means of the promotion of startup projects and acquaint with the ideas of the winners of the project "100 new faces of Kazakhstan" within the framework of the realization of the program "Ruhani Jangyru".
During the forum the participants presented the topical startup projects in the Pecha-Kucha format, demanding the expert evaluation and support from the businessmen-benefactors and potential investors.
Further, the master-classes were conducted on the theme "Success story".
In the event took part the deputy chairman of the Assembly of people of Kazakhstan, head of the Secretariat of the APK of the Administration of the President RK L. Prokopenko, winners of the project "100 new faces of Kazakhstan" of Almaty city, heads of the republican ethno-cultural unions, entrepreneurs and benefactors, members of the youth unions.
Leonid Prokopenko greeted the guests and participants and congratulated on the start of work of the youth FUTURE-forum "New wave 100+":
"For Assembly the work with youth is becoming one of the main priorities. On the initiative of the Head of our state the large-scale program of political, social-economical, spiritual modernization is realized in Kazakhstan. To that process all the youth of multinational Kazakhstan must be involved. That is why in March this year under the auspices of the Assembly was created the republican movement of the APK "Jangyru joly". In the platform of the movement are reflected the tasks of formation of new social consciousness, modernization of the country".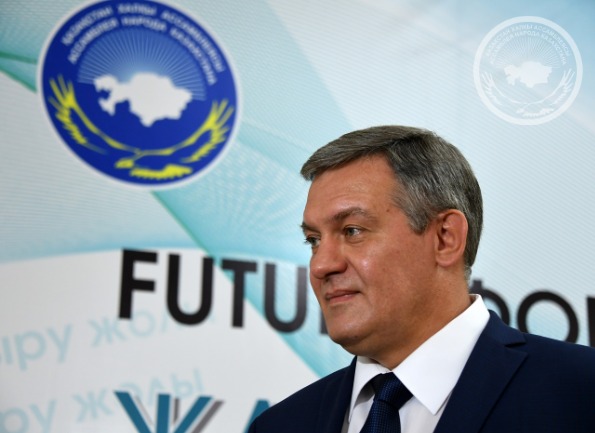 Also he said, that in his speech at the XXVI session of the APK the Head of the state marked, "New youth movement APK "Jangyru joly" has to consolidate the youth around modernization. It is necessary to direct efforts to the support of topical youth startups". And the FUTURE-forum "New wave 100+" can be called the concrete step in the realization of the instruction of the President.
"We hope that the exchange of experience, search and realization of topical startups, active forms of teaching and conduct of the leisure time will give the new impulse to the youth! Perhaps, you would become the heroes of our time and in the future fill in the list of the winners of the project "100 new persons of Kazakhstan", — concluded the head of the Secretariat.