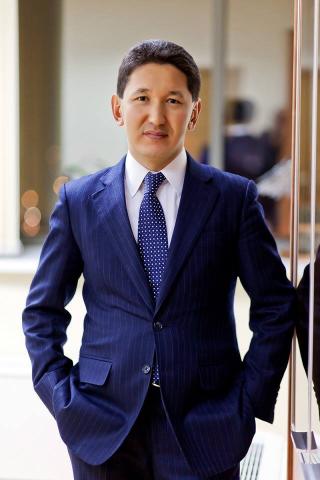 He was born in 1969 in Aktobe Region.
Graduated:
1986-1993: Aktobe State Medical Institute majoring in "General Medicine". Surgeon.
1993-1997: Institute of Market at Kazakh State Academy of Management majoring in "Economics and Management". Economist.
2003-2005: Academy of National Economy under the Government of the Russian Federation – Institute of Business and Business Administration, Moscow, major "Marketing and Sales Management", MBA.
2011-2012: National School of Public Policy at the Academy of Public Administration under the President of the Republic of Kazakhstan, in partnership with Sanford School of Public Policy at Duke University (USA).
- Member of the Assembly of people of Kazakhstan;
- Member of the Presidium of the National Chamber of Entrepreneurs of Kazakhstan "Atameken";
- Chairman of the Regional Council of Entrepreneurs of Aktobe region.
- Co-Chairman of the Diplomatic Business Club in the Republic of Kazakhstan.
- Founder and President of the Corporate Charity Fund "Altyn Kyran".
- Chairman of YPO Kazakhstan.
Winner of the National Public Charity Award "Altyn Zhurek" (2011), winner of the gold medal "Maecenas of education" (2012), winner of the international competition "Entrepreneur of the year".
I. Salzhanov takes an active part in charitable and patronizing activities of the Assembly of people of Kazakhstan.  An entrepreneur built a modern nursery for 200 children at his own expense, which is transferred to the local authorities in Kobdinsky district of Aktobe Region in 2013. 
In 2018, I. Salzhanov co-financed the construction of a new regional museum of local history in the city of Aktobe. He provides great assistance to the creative intelligentsia in the publication of books and presentations of new works. The entrepreneur financed translation of the famous classic of the Kazakh literature "Blood and sweat" and the novel "The last debt" into English, French and Swedish, which became available to readers in more than 50 countries.
Direct translation from English into Kazakh and dubbing of Hollywood cartoons of Walt Disney Studio "Cars", "Cars-2", "Brave heart", "Spider-Man", "University of Monsters" were made for the first time at full financial support. I. Salzhanov provided financial assistance to the Public Fund "Bobek" in holding "Thanksgiving Day" and festival of youth.
He financed the following projects: "Road map of APK charity" programme "Mother's House" in Aktobe, repair of Kazakh school in Mongolia, opening of Kazakh language centre in Houston (USA).
He entered the list of 100 new faces of Kazakhstan.