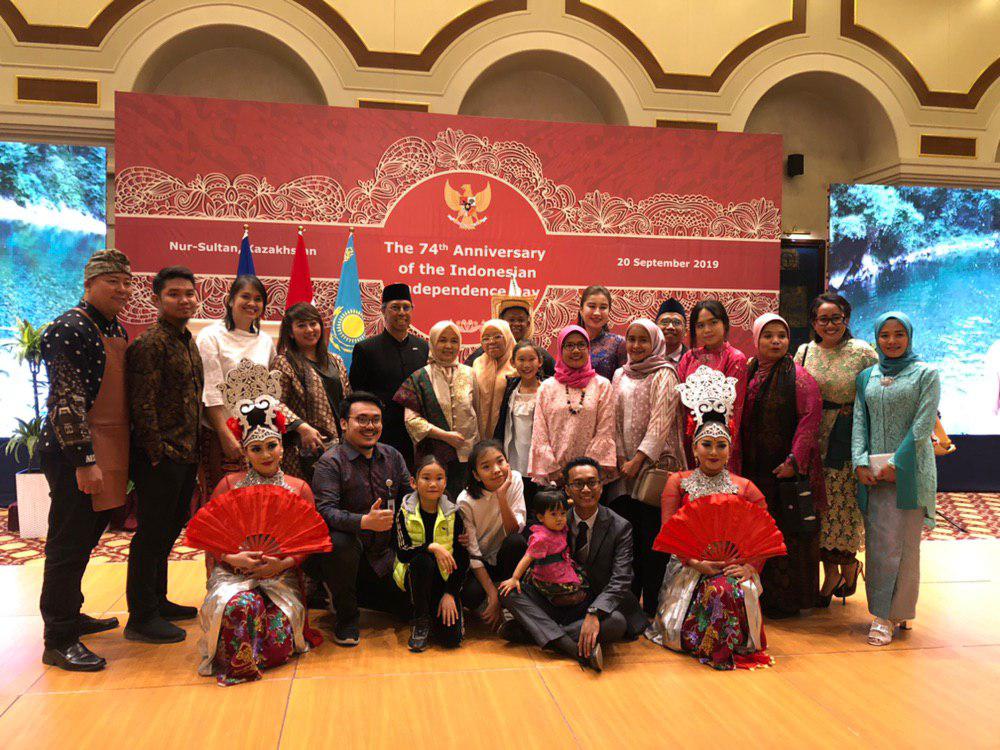 23 September, 2019
2087
Kazakhstan and Indonesia: New Milestone in Mutually Beneficial Cooperation
NUR-SULTAN - The Embassy of the Republic of Indonesia in Kazakhstan marked the 74th anniversary of Indonesian independence.
Within the festive program, the guests were presented a concert with performance of traditional dances, and performance on musical instruments.
Mr. Rahmat Pramono, Ambassador Extraordinary and Plenipotentiary of the Republic of Indonesia to Kazakhstan, delivered a welcoming speech:
"August 17, 1945 was a sacred day for the Indonesian people. It was the day when Indonesia declared its independence and joined the community of free and sovereign nations. Every year, Indonesians all over the world celebrate this day with gratitude, honoring the courage of heroes and remembering the innocent people who died in the difficult period of the battle for freedom.
We were a relatively young nation. But the young people dared to dream of the future. Today, in its 74 years of independence, the country is proud of its reputation as the third largest democracy with a population of more than 260 million. With a total GDP of over 1.1 trillion dollars, Indonesia is strengthening its position as the 16-1 largest economy in the world and part of the G20 community.
It takes a lot of courage to become the nation we are today," Mr. Ambassador said.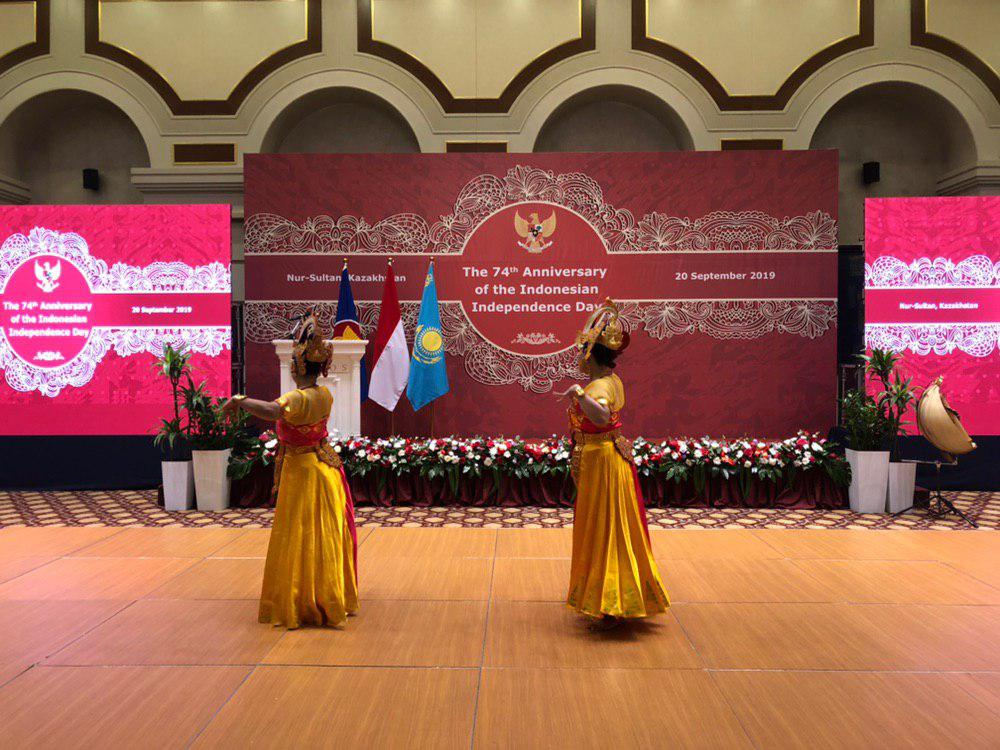 According to Mr. Rahmat Pramono, each partner is equally important in bilateral relations.
He noted that the Republic of Indonesia has established excellent relations with the Republic of Kazakhstan and they continue to be improved.
The Government of the Republic of Indonesia recognized the independence of the Republic of Kazakhstan on 28 December 1991, just 12 days after the declaration of independence on 16 December 1991. The establishment of diplomatic relations did not take long, and were already established in June 1993.
Both Indonesia and Kazakhstan share the vision of achieving global security without nuclear weapons. Indonesia recognizes Kazakhstan's special and invaluable contribution to the promotion of disarmament and non-proliferation and its continued efforts to establish a nuclear-weapon-free zone at the regional and global levels.
Indonesia and Kazakhstan also held general elections in their countries this year. This is a regular event for a democratic country that has been closely monitored by local and international observers.
For the first time, Indonesia held presidential elections simultaneously with legislative elections in its two chambers. More than 190 million people reportedly went to the polls to vote. That is a daunting task, and its peaceful achievement is always a success.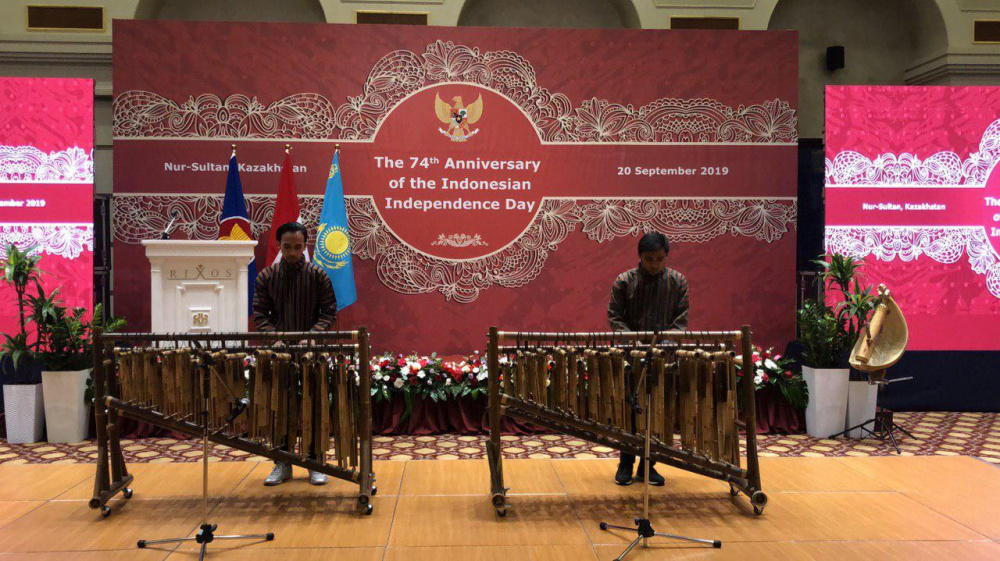 Mr. Rahmat Pramono also told about bilateral trade.
"In 2018, the total trade between Indonesia and Kazakhstan amounted to $60.29 million, a slight increase over the previous year, which amounted to $52.92 million. However, this year, just between January and July 2019, the total value of trade reached $229.84 million, breaking an unprecedented growth record of more than 1200% over the same period last year. We are confident that this progressive figure will continue in the coming years.
Promoting cultural understanding and people-to-people interaction are other aspects that we encourage," the Ambassador said.
In 2016, the Government of the Republic of Indonesia unilaterally provided a visa-free short-term visit for all Kazakhstanis to develop the tourism sector.
The two countries have also established ties in the field of education:
"We are glad to see the expansion of academic exchanges between the two countries. Since the opening of the Embassy in Nur-Sultan in 2011, 32 students from Kazakhstan won three prestigious Indonesian scholarships for foreign students: Darmasiswa, Scholarship in Arts and Culture (BSBI), and Scholarship for Developing Countries (KNB). Some of the alumni have returned to Indonesia with their families and some of them have brought their friends to participate in various activities at our cultural center in Nur-Sultan. They became part of the Indonesian community in Kazakhstan. This year we also welcome the first group of Indonesian students in Kazakhstan who are starting their bachelor's degree program at KazSU University, Nur-Sultan.
We believe that such interaction between people helps to bring the two countries closer together and establishes true friendly relations," the Ambassador said.
Mr. Rahmat Pramono noted that during 26 years of bilateral relations between the two countries, every aspect of cooperation has been developed.
"It is a great honour for me to serve as Ambassador of the Republic of Indonesia to the Republic of Kazakhstan since mid-2017. It's not an easy task, but I take it as an honor to be appointed.
Thanks to textbooks, every Indonesian pupil is taught how rich their country is. This is not about GDP, but about the diversity that defines our country. We are made up of 300 ethnic minorities and 6 religions, all of which are spread across 17,000 islands. However, we are united as one nation, Indonesia.
This awareness leads us to believe that humanity can unite us and unite the world. We come from different countries, different nations, different religions, but people from the same world. Instead of war and conflict, we can live and prosper together" concluded Mr. Rahmat Pramono.
Dana Tugambekova
Photo: Gulzhan Ramankulova