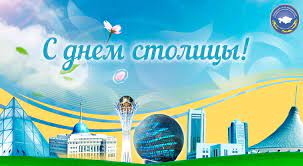 06 July, 2021
405
Assembly of the People of Kazakhstan congratulates the Kazakhstanis on Capital`s Day
Dear compatriots!
Please accept my most sincere congratulations on the Day of Capital!
Nur-Sultan city is the pride and symbol of independent Kazakhstan, a vivid example of the rapid growth of our state.
Our capital celebrates the 30th anniversary of Independence as a modern high-tech metropolis, with expressive architecture that is convenient for work and life.
Undoubtedly, each of us today feels special and deep gratitude for the initiative to transfer the capital to the First President of Independent Kazakhstan – Elbasy Nursultan Nazarbayev. From the height of modernity, we can appreciate the scope of ideas and the historical result of this strategic step.
Nowadays, all Kazakhstanis strive to move to Nur-Sultan and each of us are trying to give the ideas, work and inspiration, and most importantly – peace and respect for our capital. The city rightfully bears the status of the capital of peace and harmony today.
Dear Kazakhstanis!
Let our young capital become more majestic, prospective and beautiful. May Nur-Sultan bloom, and the life of every family will be filled with joy, prosperity and confidence in the future!
On this auspicious occasion, we would like to wish a good health, happiness and prosperity for all Kazakhstanis!
Maya Bekbaeva, the Deputy Chairwoman and Official Representative of the Assembly of the People of Kazakhstan